Together With Refugees is proud to work with some amazing coalition organisations that focus on refugee women. On International Women's Day 2023, we asked Women for Refugee Women to tell us about their vital work.
---
Women for Refugee Women supports women who are seeking safety from persecution, including rape, gender-based violence and torture, to rebuild their lives. Our office and in-person activities with the refugee and asylum-seeking women in our network are based in London. However, we support women who live across the UK who are able to attend our online creative and educational activities, such as English classes and yoga. Our campaigning and advocacy is nationwide and we support refugee and asylum-seeking women who are based in London as well as throughout the UK.
We work in three main ways: we support and empower women seeking asylum through our creative and educational activities. Whether it's at English class, knitting or drama, our empowerment activities offer a welcoming and friendly space where women can come together to build their skills and confidence, enjoy a cup of tea and make friends with other women who understand what they have been through. We communicate with wide audiences by supporting refugee and asylum-seeking women to share their stories and experiences through the media, events and arts projects. And, we influence policy by informing policy makers and politicians about how to build a fairer asylum process for women seeking safety.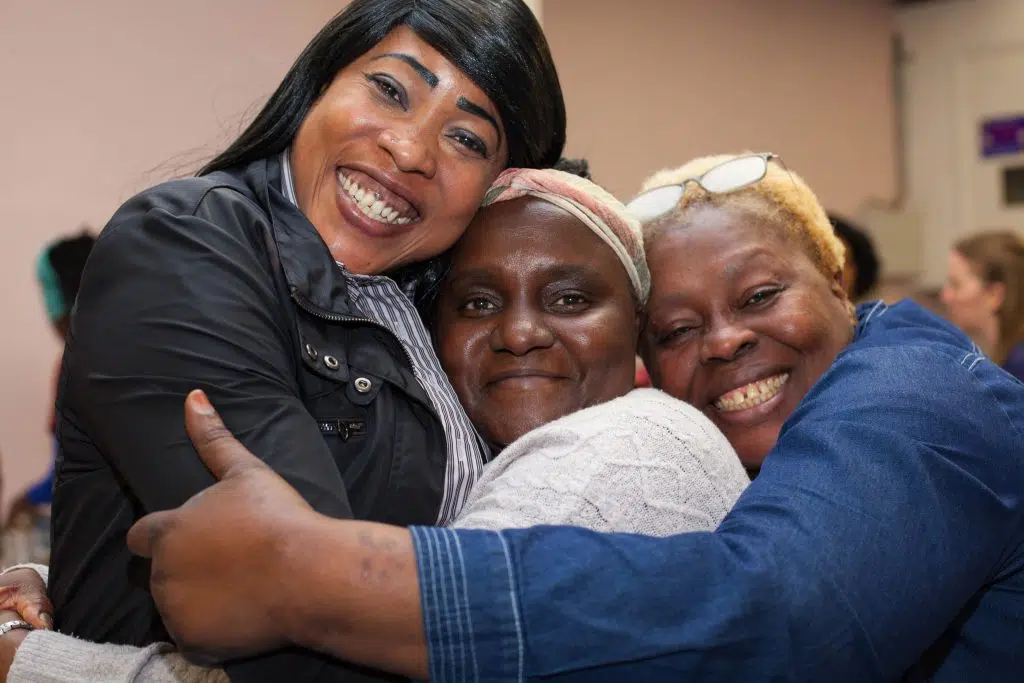 How long has your organisation been operating?
In October 2022, we celebrated 15 years of Women for Refugee Women alongside our friends, supporters and colleagues from across the sector. It was incredibly moving to come together to mark all that has been achieved over the last 15 years and to stand in solidarity and resistance in the face of the increasingly hostile environment.
Over the last 15 years we have supported hundreds of refugee women to build their skills and confidence to rebuild their lives; continuously campaigned against the hostile asylum system and achieved positive change; reached thousands of people with the stories of refugee women; and built a support base of tens of thousands of people committed to fighting for a more compassionate asylum system for women seeking safety.
What are some of the challenges or specific issues of working with refugee women?
Most women seeking safety in the UK have survived extreme violence and dangerous journeys only to find new challenges when they arrive here. The asylum process often subjects vulnerable women to the 3 D's: disbelief, detention and destitution. Women's stories are too often silenced or denied. And, if women are denied asylum, they can be re-traumatised through indefinite detention or forcibly made destitute with no access to any housing or financial support.
We know that survivors of gender-based violence, rape, and other forms of torture need the time and space, mental health support, and a trusting relationship with their solicitor to be able to open up about what they've experienced and to claim asylum. The changes introduced by the harmful Nationality and Borders Act, alongside new legislation due to be announced in March 2023, will make it even harder for women seeking safety to receive protection in the UK, and risks wrongful decisions – which can be life or death decisions.
How does your organisation provide responses to those issues? What services to you offer?
Women for Refugee Women is a dedicated women's only space for refugee and asylum-seeking women. Women in our network have told us how important this is for them, so they can begin to talk about their experiences and to connect with other women who have been through similar experiences. For many women in our network, they have suffered immense abuse and violence at the hands of men, so being able to build their skills and confidence, receive legal advice, and come to a welcoming women's only space is crucial.
How do you involve refugee women in co-creating your work?
Refugee and asylum-seeking women co-create every aspect of our work. Whether this is through the creation, development and running of our empowerment activities or through the strategizing, planning and delivery of our campaigning and advocacy work. Working alongside women with lived experience of the asylum process is central to our campaigning efforts. In our dedicated campaigning groups, women can equip themselves with the skills to lead on our campaigns strategy, coordinate and implement campaigning actions, and advocate for themselves and the issues they care about at public events, in the media and to parliamentarians.
For example, our monthly Campaigns Forum is a dedicated space where women meet to keep updated with policy and external developments; build campaigning skills; take part in campaigning actions; and to bring the issues affecting our wider network of women to our campaigning agenda. Our work is for refugee and asylum-seeking women and with refugee and asylum-seeking women.
What are you most proud of in your work?
It's always a really proud and powerful moment when a piece is released or an event is a success and women we have supported for a long time do such an excellent job at dispelling hostile rhetoric about refugees and advocate for other women like themselves. We feel proud at work every day! Of colleagues who spend every day fighting injustice and inequality, to the women we support who constantly inspire us with their resilience, humour and strength.
Can you tell us a bit about your involvement with Together With Refugees coalition?
We're proud members of the Together With Refugees coalition, alongside our friends and colleagues from across the sector. Our favourite part of being a member of Together With Refugees is the show of solidarity from across the sector, and being able to come together in a room to share ideas and learn from one another. Working in this sector can often feel quite lonely, particularly when the political environment is so hostile and achieving real change is so difficult, so being part of a wider coalition who are all working towards a fairer and more welcoming asylum system is a much-needed reminder of our collective power!
What are your hopes for the future of your organisation and for refugee women?
We hope that one day we won't have to exist! This would mean that refugee and asylum-seeking women are welcomed into society, given the tools and support needed to rebuild their lives and to thrive as equal members of society. We hope that refugee women find joy, happiness and love, on International Women's Day and every day. The women in our network at Women for Refugee Women inspire us every day!
Read more about Women for Refugee Women and follow them on Twitter and Instagram.