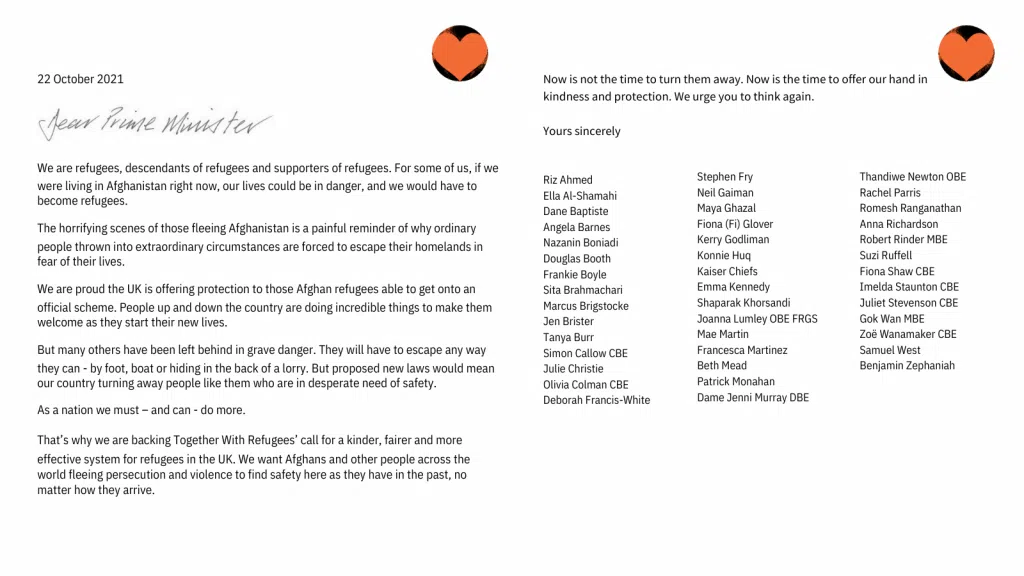 As we round off an incredible Week of Action with thousands across the country showing their support for refugees – more than 40 famous faces from stage and screen have added their voices to the campaign.
Olivia Colman CBE, Stephen Fry, Shaparak Khorsandi, Joanna Lumley OBE FRGS, Thandiwe Newton OBE and Robert Rinder MBE have joined nearly 40 other famous faces to sign an open letter to the Prime Minister, calling for a kinder, fairer and more compassionate system for refugees in the UK.
The letter, published today, says:
"We are proud the UK is offering protection to those Afghan refugees able to get onto an official scheme…But many others have been left behind in grave danger. They will have to escape any way they can – by foot, boat or hiding in the back of a lorry. But proposed new laws would mean our country turning away people like them who are in desperate need of safety.
"…We want Afghans and other people across the world fleeing persecution and violence to find safety here as they have in the past, no matter how they arrive. Now is not the time to turn them away. Now is the time to offer our hand in kindness and protection. We urge you to think again."
Signatories include people who are themselves refugees – Nazanin Boniadi, Shaparak (formerly known as Shappi) Khorsandi and Patrick Monahan, as well as those who descend from refugees, like Robert Rinder whose grandfather arrived in the UK as a child having survived the holocaust.
"In 1945 my grandfather arrived in the UK as a child refugee from the hell of the holocaust. We can help provide sanctuary to those in danger now who have overcome terrible struggles to find their way to safety and freedom. This is what our country is at its very best. We must not turn our backs. We must oppose this bill currently going through Parliament."

– Robert Rinder
Others have added their weight to the letter as supporters of refugees or because they are aware that they may have needed to become refugees themselves in another country because of their sexuality, gender, faith or job. Riz Ahmed, Douglas Booth, Simon Callow CBE, Olivia Colman, Stephen Fry, Joanna Lumley, Mae Martin, Dame Jenni Murray DBE, Thandiwe Newton, Romesh Ranganathan, Imelda Staunton CBE, Juliet Stevenson CBE, Gok Wan MBE, Zoë Wanamaker CBE and Benjamin Zephaniah are just a few these.
"It's hard to comprehend how awful life must be for many people in Afghanistan right now. To know your life is in danger simply because of your gender identity and/or sexuality is terrifying. We all have a right to live in safety, free from persecution. That's why I am urging the government not to turn people in desperate need of our protection away, but to create a fair and compassionate system of welcome."

– Mae Martin
To find out about all the other incredible activities our members have been up to during the Week of Action take a look at our latest news story. From a rally in Glasgow to a human heart on the beach of Brighton the show of orange hearts – the symbol of support for refugees – has been an inspiring show of opposition to the Nationality and Borders Bill as well as compassionate and kindness to those who struggle to find safety.
"Nobody chooses to become a refugee and leave all that they know and love behind. It's a last resort. Let's find the compassion, kindness, decency and imagination that so often characterise the citizens of this country in the course of their daily lives. This Bill will not resolve the problems in the asylum system that exist today. It will further endanger the journeys of those seeking sanctuary from violence. And if passed, it will represent a further decline in our moral standing in the world, and in our national sense of self. What kind of people do we seek to be?"

– Juliet Stevenson