Welcome to this guest blog from Southampton & Winchester Visitors Group (SWVG)!
We're a well-established local charity – a large group of volunteers who share friendship and practical support with people while they are trying to get asylum. Our friends will face even more severe difficulties from this Government's anti-refugee bill.
This time last year, we were facing the prospect of the Home Office building an isolated asylum reception camp on MOD land north of Winchester and we were campaigning against this. Fortunately local Conservative MPs and Councillors also objected, and the project was cancelled ahead of local government elections.
In the summer and autumn, our members wrote many letters to their MPs about the Bill and requested meetings. Almost all our local MPs are Conservative and for the most part they sent standard cut-and-paste replies which failed to address the issuesraised. A notable exception was Caroline Nokes MP, the former immigration minister who has been outspoken against the Bill and even met us for a Show Your Heart photo event.
We also reached out to many faith groups in our area to ask them to Show Your Heart, building on our longstanding relationships (see below).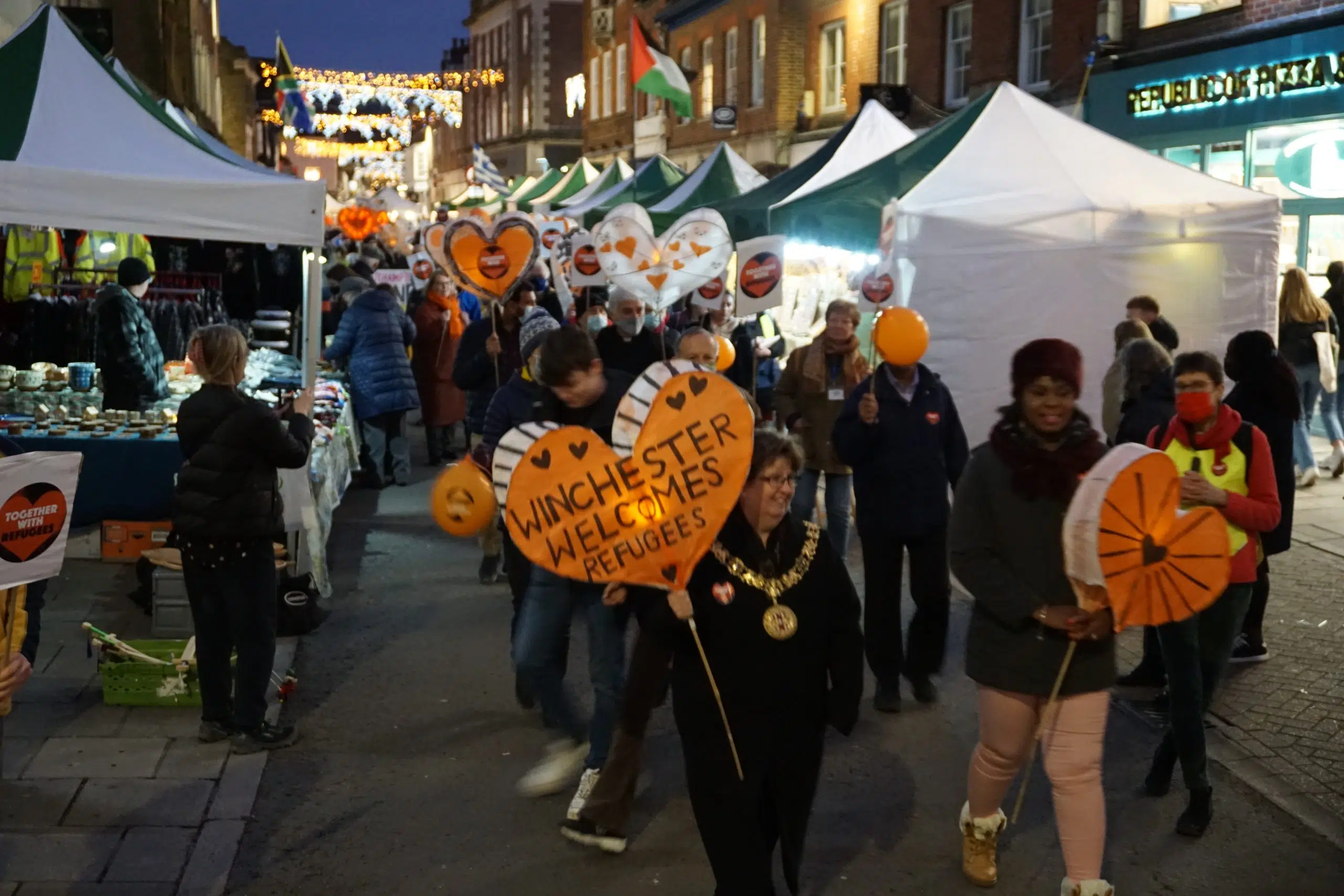 Our highlight so far has been the Lantern Parade that we organised in Winchester in December. The parade was led by the Mayor, the Leader of the Council, the Chair of Southampton Stand Up To Racism (SSTUR), and some of our friends with lived experience. Thank you also to Lord Dubs, who sent us a video message of support and to Winchester City Council who voted unanimously to become a City of Sanctuary in January.
We also ran a Valentine's Day event in Southampton, organised by SSUTR – it certainly helps to have local allies campaigning together. We're also having another push to arrange meetings with our MPs, alongside our friends with lived experience. We want to discuss the real effects of the Bill, and we also want to bring our positive practical alternatives.
Shout out for Together With Refugees at Southampton Street Festival, Stockbridge Community Cinema in support
Contacting people, writing letters and organising events is a lot of work and we need plenty of time in advance to prepare things. There's been widespread support from people on the streets when we've done stalls, festivals and other community events, cross-party support for refugees from local councillors, and good coverage in local papers.
This year's terrible events have motivated many more people to join us, bringing fresh energy, skills and experience. We're very happy to be part of the Together With Refugees coalition and to share news and ideas. It's going to be a long haul, whether or not we secure concessions on the Bill, but we'll get there together.