"As somebody who fled war and persecution in Afghanistan to come to the UK and is now a leader in our movement for change, your efforts and determined action never fail to inspire and uplift my spirits."

Sabir Zazai – Chair, Together With Refugees and CEO, Scottish Refugee Council
This has been an exceptionally difficult year for many trying to seek safety here in the UK. We were reminded just last week of the terrible price people seeking refugee protection are paying as our government refuses to open safe routes.
But the last year has also been one where our movement for a better way for refugees showed extraordinary, growing collective strength. We must not forget all the crucial work we achieved together as a coalition of now well over 500 organisations, despite these challenging times. Today I would like to thank you for your incredible commitment and compassion. As somebody who fled war and persecution in Afghanistan to come to the UK and is now a leader in our movement for change, your efforts and determined action never fail to inspire and uplift my spirits.
There is, of course, much more to be done. In the past couple of weeks, we saw more lives tragically lost in the English Channel, we had a Prime Ministerial statement on refugee policy that fell far short of the compassionate and fair approach we need, and yesterday we had the news that sending refugees to Rwanda is legal. This shows sadly just how much there is to be done. However, I know from your tireless work to date that we will all return with a renewed energy to continue the fight in 2023.
Sabir Zazai
Chair, Together With Refugees
2022 Highlights
A Bill at What Price?
In February, Together With Refugees revealed the additional costs to the taxpayer for implementing the Nationality and Borders Bill – £2.7bn. In 'A Bill at What Price?' we costed the new elements in the asylum system that are set out in the bill. The research received strong pickup in the national press, including in Daily Telegraph, The Times, BBC Radio 4's Today, The Guardian, Independent and Daily Express.
Show your Heart on Valentine's Day
Love was in the air across the UK on Valentine's Day 2022, as communities showed their heart for refugees with orange hearts and Valentine's Day cards with messages to MPs. More than 90 MPs of all political persuasions were sent Valentine's Day calling on them to show their heart and support amends to the Nationality and Borders Bill – from primary school children to lived experience organisers. You can read the full story here.
Day of Action 21 March
On 21 March, the day before a key vote on the Nationality and Borders Bill, members across the country took action to demonstrate their opposition to the proposals. Orange hearts and lights adorned iconic landmarks and buildings, including on the BALTIC Centre for Contemporary Art in Gateshead, a flotilla of ferry boats in Bristol, Cardiff Castle, the Penshaw Monument in Sunderland and sites across Coventry.
'Vote to protect not punish refugees' boat protest
Campaigners, activists with lived experience, faith leaders and high profile supporters joined us on a boat outside the Houses of Parliament to call on MPs to 'Vote to protect not punish refugees' on 20 April – the day of the final vote on the Nationality and Borders Bill.  High profile supporters of our cause attended, including Deborah Frances-White, Kathy Lette, Sam Lee, Robert Rinder, Juliet Stevenson and Patrick Monahan, himself a refugee from Iran, refugees from Afghanistan, Syria, Kosovo and Eritrea as well as coalition member organisations. The protest generated significant national and regional coverage, including in the Guardian, Times Radio, Channel 5 News, Evening Standard and Independent.  Read all about it here.
High profile supporter letter to Commonwealth leaders
High profile supporters, including Sophie Okonedo, Martins Imhangbe, Lucian Msamati and Anita Asante, urged Commonwealth leaders who attended the Commonwealth Heads of Government Meeting in Rwanda on 25 June 2022, to oppose the UK's plan to deport refugees to Rwanda, saying it shows a "colonial view" of Africa as a "dumping ground", signed by more than 20 high profile names also includes David Harewood MBE, Lemn Sissay, Benjamin Zephaniah, Ore Oduba, Dame Emma Thompson, Olivia Coleman CBE, Sita Brahmachari, Nazanin Boniadi and Vijay Mistry. The letter was covered by a number of national media outlets including The Guardian. Read the full letter and list of signatories here.
#FillTheSkiesWithHope
On 23 September members from across the country made and fly orange heart shaped paper planes to #FillTheSkiesWithHope in opposition to the cruel scheme to banish refugees to Rwanda. The plans had messages written on them urging the Prime Minister to change course on the Rwanda policy. Many more than 50 events involving well over 2000 people across every major region and nation of the UK have taken part, including refugee-led groups, schools and university students. The campaign continues and you can find top tips here from member Tynemouth Together With Refugees from when they held their paper plane action and more information on how to take part here.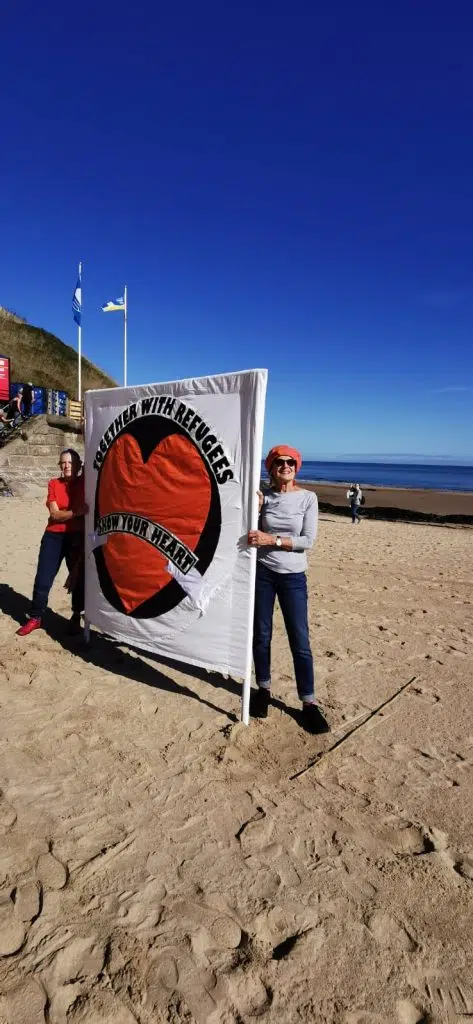 Open letter to Home Secretary from 100 refugee charities
More than 110 organisations signed an open letter to Suella Braverman on 31 October, within a week of her being reappointed as Home Secretary. The letter called on her to 'do something worth dreaming about' by creating safe routes and dealing with the backlog in claims. The letter, coordinated by Together With Refugees and charity IMIX, was signed by 117 sector leaders and members including from Choose Love, Christian Aid, City of Sanctuary UK, Doctors of the World, English National Opera, Freedom from Torture, Good Chance Theatre, JCORE, Jesuit Refugee Service, Rainbow Migration, Refugee Action, Refugee Council, Scottish Refugee Council, Safe Passage and Save the Children. The open letter and full list of signatories can be found here. It generated coverage on BBC Radio 4's Today, Sky News, Times Radio, BBC Radio 5, Channel 5 News, BBC Scotland news, ITV news, Express, Independent, the Evening Standard and a range of other outlets.