Seventy years ago today the UK signed the UN Refugee Convention. To celebrate this proud moment in our history and to urge that it is upheld for the future, Together With Refugees invited refugees from each of those seven decades to re-create the iconic photograph of the original signing of the Convention.

The photograph brings together refugees spanning recent history: from dissident writers escaping communism in the 1950s to Syrian families fleeing war today, alongside Ugandan Asians who fled the tyranny of Idi Amin and people who escaped ethnic cleansing in the Balkans. In the place of the UN document, they signed an orange heart, a symbol of support for refugees.

Find out how you can also celebrate 70 years of the convention here.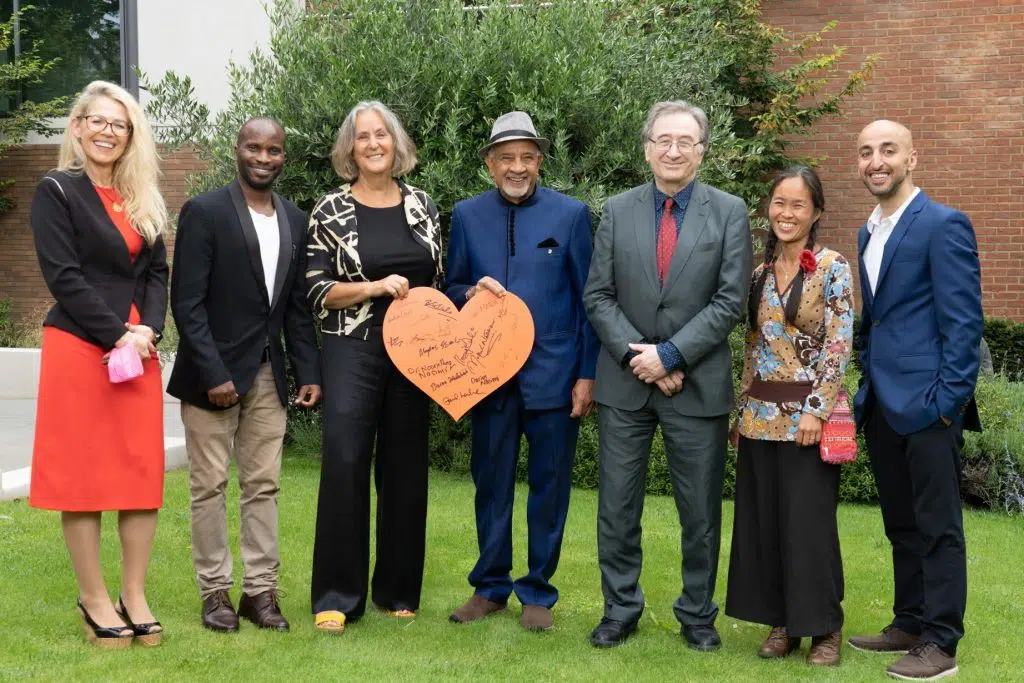 A recent ICM poll revealed that three in five people (59%) are proud that Britain has protected refugees since it signed the Convention in 1951.

George Szirtes (72), who took part in the re-creation photograph, is a successful writer who lives in Norwich. He arrived in the UK as a refugee in 1956 at eight years old, having fled Hungary following the Soviet response to the Hungarian Uprising. He said:
"Giving safety to people fleeing war and persecution was necessary 70 years ago and I suspect it is more necessary now than ever before"


Dr Saad Maida (37), who also took part in the photograph, is a doctor working in the NHS and lives in Leamington Spa. He arrived in the UK in 2010 to study and was given refugee status in 2014 because he needed protection from the war and violence in Syria. He said:
"The UN Convention has had a huge impact on me. I always carry my official documentation, which has '28 July 1951′ printed on it – a date I will never forget. It has given refugees freedom and acknowledges that we have rights: that we need more than safety and shelter and food. I feel immense gratitude and hope somehow to pay that back."
"It's a great milestone, to be able to celebrate it and to pause and reflect on what that has meant for hundreds of thousands of refugees from then until now."

Hong Dam, is a digital artist and writer based in Brighton. She fled Vietnam with her family when war broke out when she was eight years old. Hong boarded an overcrowded fishing boat and travelled with hundreds of others to the relative safety of Hong Kong. From there her family were resettled in the UK in 1980.

She said: "What I do feel the Refugee Convention has given me is hope – an opportunity to be human, to be safe and to be with my family."

Enver Solomon, a spokesperson for Together With Refugees and CEO of the Refugee Council, said: "Seventy years ago, after the horrors of World War Two, the UK signed the Refugee Convention. We gave our commitment to protect people fleeing war and persecution. Since then, it has saved hundreds of thousands of lives – from those fleeing ethnic cleansing in the Balkans, torture in Zimbabwe or war in Syria. These are people who have gone on to make huge contributions to our communities as proud Britons. And we must continue to safeguard this promise of safety."